Doughboy Statue Location
Copyright version 1920, sheet bronze.
Smithsonian Art Inventory Control Number 47260081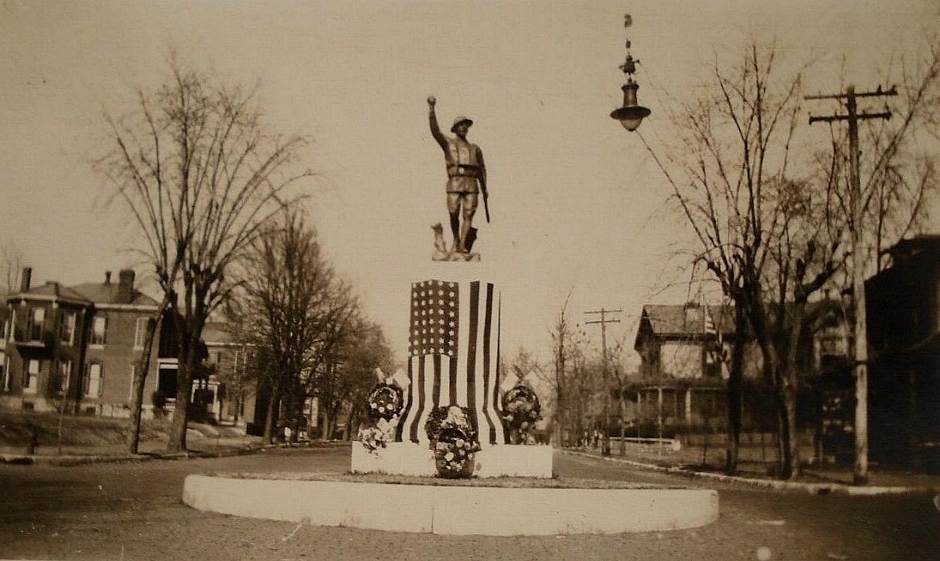 The Alton Doughboy on 11/11/1923, one year after its dedication, at its original location at Henry and Fifth Streets.
The plaque inscription on the front of the base reads:
THIS
MEMORIAL
IS ERECTED
TO
COMMEMORATE
THE
PATRIOTISM
AND
DEVOTION
OF
OUR CITIZENS
WHO
ANSWERED
OUR COUNTY'S CALL
AND
SERVED IN
THE
WORLD
WAR
A plaque on the right side of the base lists the names of those who gave their lives. A plaque on the left contains an Abraham Lincoln quotation, and a plaque on the back lists the locations of thirteen WWI battles. The two sections of a low wall near the street contain the words, "VETERANS" and "MEMORIAL". A plaque just in front of the Doughboy is dedicated to those who lost their lives in World War II, Korea and Vietnam.
The Doughboy was originally dedicated November 11, 1922, with funds raised by the East End Improvement Association. The news clip at right is incorrect; the original location was at the intersection of Henry and Fifth Streets, then a move to Riverside (now Riverfront) Park in 1942, and finally to its current location and rededication in 1975. It was here where the stone marker for veterans of WWII, Korea and Vietnam was added.
The World War I doughboy monument that is now at VFW Post 1308 was originally located in Riverside Park. In this photo, the old Union Station can be seen in the background. The East End Improvement Association originally raised funds for the memorial and its upkeep. Subject to vandalism, the monument was moved to the VFW post in 1975, where it was re-dedicated. The train station, which was razed in 1956, was unique because it was built to resemble the shape of the locomotive. This photo was submitted by Mildred Miller of Alton.